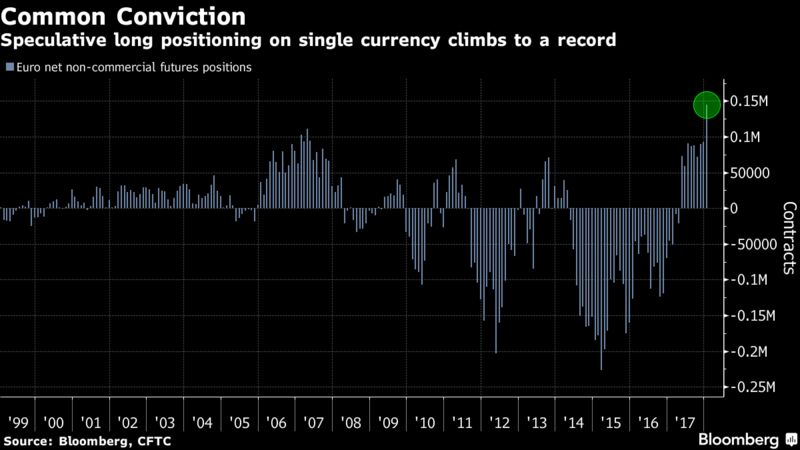 Bloomberg – Dollar Slide Deepens as Euro Strength Caps Stocks
Economists bump up 2018 outlook for euro-area growth to 2.2%

The dollar remains under pressure after capping five straight weeks of declines, even against a backdrop of solid U.S. growth. Traders appear to be more excited by potentially hawkish policy shifts from central banks in Europe and Japan, the improving political outlook in the euro area, and the synchronized nature of global expansion that's also propelling emerging-market economies. The single currency — which already has momentum after last week's progress toward a German government — got a further boost as economists polled in a monthly Bloomberg survey bumped up their 2018 outlook for euro-area growth to 2.2 percent. That's close to the decade-high 2.4 percent pace estimated for last year.
Comment
Financial Times – Dollar slides to 3-year low as euro gains on Merkel coalition deal
Investors eye tighter monetary policy from the ECB, momentum from stock rally ebbs

The dollar index is trading around its weakest levels in more than three years as the euro and pound add to gains from late last week, spurred by political developments in Europe. The benchmark, which measures the US currency against a basket of peers, fell as much as 0.7 percent to 90.279, taking it down over 2 percent since the start of the year. The euro is at its highest level since late 2014 as the dollar wilts, up by as much as 0.8 percent on the session at $1.2296. The sustained rally comes after German Chancellor Angela Merkel unveiled a coalition deal between her conservative bloc and the Social Democrats.

The Financial Times – Does the euro breakout have momentum?
Bond bear market and US tax reform impact also in focus

The euro is up almost 3 per cent in the past three trading days, storming past $1.22 on Monday,to hit its highest level in three years. After testing $1.21 three times this year that level was finally breached on Friday, setting the stage for Europe's single currency to find a higher trading range against the dollar. The triggers were the clearing of two hurdles to further euro appreciation: the breakthrough in the German coalition talks and US inflation data that failed to give the dollar momentum.
Summary